-- December 2009 Update --
With my first Thanksgiving behind me it was time to embark on the craziest month of the year December. I believe that December is one of the best months of the year but also very jam packed with lots of Holiday Spirit! In the Barry-Brack house it's not stop fun.
Before anything could begin for me in December I made the drive back to Fort Worth for my much needed band fill with my favorite Doctors at Fort Worth LapBand. This was the first time that I was able to go more than four week in between appointments. Eight weeks to be exact. I went into the office knowing that I had dropped weight but not sure exactly what the scale would show. My previous appointment weight was 243 pounds. The time finally came when I was called back and I was able to weigh in dropping a wonderful 25 pounds, bring my current weight to 218. I felt wonderful and was on cloud nine. Not only because I had just dropped my biggest weight to date but my Mom was able to share my joy with me. When I went in for my fill Dr. Slicho said" Congrats 25lbs, you get a high five for that one" He also said, "Christiann, your right on track. Keep up the good work!" I was finally proud of myself, which has been a long time coming. I was ready to conquer the crazy month of December.
First, we had John-John's 23rd & Presley's 18th Birthday on December 9th. Now I don't know if any of you have the same situation where you have two siblings that have the same birthday and live in different cities but it can cause quite a commotion. I wanted to be there for Presley's birthday dinner but I had also promised my brother that I could come and celebrate with him. Luckily, I was able to figure everything out and do both. So I packed the car and headed to Fort Worth for John's Birthday. It was exciting because Mom decided to come along.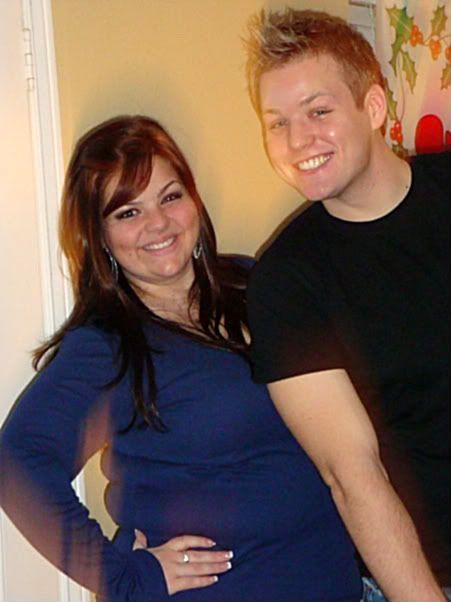 It was a great two day get-a-way to Fort Worth, I was with my three favorite people John John, Armin, & Mom! As our mini vacation came to a close it was a sad goodbye because we had to say bye to Armin who was going to be leaving back to Bosnia a few days later. :( We gave our hugs and shed a few tears but we ended up on the road and back to Houston. I slept the entire way home, Thanks Mom! :D (More to that story!)
Finally, we were home and it was time to put up the Christmas decorations. I was not a very good helper but Mom did an amazing job on the mantle and Christmas tree!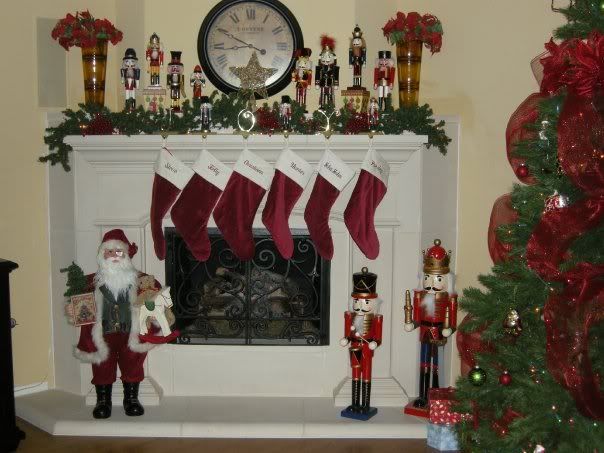 Once the decorations were up I knew that soon the shopping madness would begin. Just so you know this is my least favorite part of the season, or so I thought. I also get really bad anxiety when stores are crowed and people are extremely rude. For some reason this season was different I actually enjoyed the chaos at the mall and enjoyed shopping even more. I knew exactly what I wanted to get everyone. This was also my first Christmas that I was celebrating not only at my Mom's house but also with my Dad, Sister, Brother In-law, Niece, & Granddaddy in Oklahoma. I was enjoying life and living every minute of the happy holiday season. I realized that your attitude is 90 percent of everything you do.
With all the shopping that I accomplished over the two weeks prior to Christmas I was keeping pretty busy and not really thinking about my band. I noticed that I was letting more days go by without getting on the scale. But I would still occasionally weigh in, loosing a pound or two pounds here and there, nothing drastic. But, I went on with life and said just don't gain weight over the holiday season. My goal had to change to adapt to life.
So the days passed and the Saturday before Christmas came and I woke up to this amazing fluffy stuff falling from the sky. You Northerners know what it's called but, we don't see very much SNOW in Texas. It was snowing cats and dogs. It was beautiful!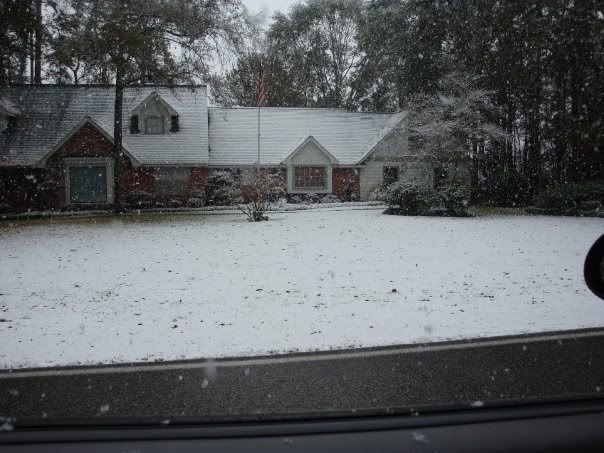 Christmas was finally here and my elf duties were finished. It was amazing, and I have to mention that I probably am one of the luckiest girls ever. My owl collection has officially started. Mom got me new silver and white ornaments for my Christmas tree and also a new owl for my room. Steve got me my new Blackberry. It official I no longer have the four year old pink razor. After the presents were opened and the mess was cleaned up Mom and John made some pancakes and we were one big happy family. We headed to Grandmother's and Granddaddy Bud's House that night for dinner and the annual cousin's pictionary game. It gets very intense!!!! My Houston holiday was amazing but Christmas wasn't over yet. I still had Christmas in Oklahoma...remember that snow I mention. Oklahoma had a blizzard, which made it quite difficult to make it to my sister's house in Tulsa, six hours past DFW without bad weather.
We left Grandmother's and headed to Fort Worth to stay with John for the night and then I was off to Oklahoma the next morning. Well, I made it safely and without a hitch...well unless you forget about the call I made to my mother because some idiot just blasted pasted me going 90 and throwing slush onto my window where I couldn't see. I arrived at my sisters and was greeted by the cutest little girl ever! My niece Zoey who is 3 1\2 (My sister Melissa & Brother in-law Mike just adopted Zoey) and this was the first time I was meeting her smiling face. We played laughed and talked about life. Now, I haven't been that great of a sister but my new year's resolution is to be a better sister and sister in law. Not only did Mike and Melissa just adopt Zoey but they are expecting twin girls in May (another crazy month)! I spent the night at Melissa house and the next day headed to OKC to see Granddaddy! Lunch was amazing and it was nice to spend time with my Dad, Sister, & Granddaddy Jack!
This past holiday was a great one! I spent every minute with a smile on my face. I will always remember my holiday season in 2009 but I look forward to the next chapter in my life!